---
Barnett Henry Abrahams,
auch "B. H. A.",
Spielwerkfabrikant und -händler, ab 1895 in der Schweiz, bis 1902
Sons of Barnett Abraham: Joseph H. Abrahams and Henri C. Abrahams, manufacturers of music boxes and other mechanical products, 1902–1904
Britannia S.A., Joseph Abrahams and Charles Cuendet, 1904–1905
"Barnett Henry Abrahams moved to the Vaud Jura in 1895. He met Charles Cuendet-Seeger, experienced music box manufacturer, whose company, Cuendet-Develay, had closed down a year earlier but which he continued on his own account. The Barnett H. Abrahams company was created on 24th August 1895. On 31th August, through the local press, it informed 'workers of Sainte-Croix and surronding areas that on 2nd September, 1895, at No. 3, rue des Arts, we will open a music box factory and that Mr. Charles Cuendet will direct our establishment. (signed) Barnett H. Abrahams, London and Sainte-Croix '." (Piguet 2004, p. 193-195)
"The company developed very rapidly and took on staff and manufactured music boxes quickly enough to accompany the other manufacturers to the Exposition Nationale of Geneva in the summer of 1896. His products 'are particularly distinctive on account of the quality of the sound of their combs, the resonance and the beautiful decorations of the boxes. In certain pieces, the label  is gracefully framed under glass, with stoppers which look like electric keys. There is a beautiful collection of cylinder boxes of large diameter, 31 lines, and finally a large carousel with monkeys. Mr. Barnett Abrahams´ exhibit has been awarded a silver medal.'" (Grosclaude report 1896, P. 243
"Visitors paid special attention to a piccolo-fortissimo Sublime Harmonie, not so much for its sound quality as for its presentation, in 'cabinet decorated with Venetian-style bevelled mirrors; it was sumptuous rather than stylish."  (Le Genevois of Geneva, 2nd July 1896)'" (cited from Piguet 2004, p. 193-195)
"The following year, the company in the Rue des Arts was given another silver medal at the Exhibition in Brussels. The BHA factory, directed by Mr. Charles Cuendet, excels in the art and ability of introducing a music box in a series of useful objects, such as tables, desks, ladies´ writing tables, cabinets, glove boxes, liqueur cabinets, carousels, roundabouts, etc., all made in its mechanical and woodworking workshops." (Piguet 2004, p. 193-195)
"The musical elements are executed by veritable artists and the company´s library contains more than 12,000 tunes and many manuscripts of great value. There are Chinese airs, as well as Japanese, Arabic or Turkish melodies and scores of grand operas – Meyerbeer, Rossini, Chopin, Donizetti, Verdi and even Wagner keep company with Offenbach, Lecoq, Strauss, Genée, Sullivan and other composers. The company makes the smalles toys costing a few cents as well as large instruments with many cylinders and springs endlessly and costing several thousand francs. (Brussels exhibition catalog, pages 98-99)" (cited from Piguet 2004)
"In 1900, at the Exposition Universelle in Paris, Barnett H. Abrahams was awarded his third consecutive Silver medal. Although this result could be considered satisfactory, it did not indicate a progression in the quality of the products presented. It was in fact customary not to award an exhibitor a medal which was inferior to the highest reward obtained at previous exhibitions."
(Piguet, Jean-Claude: Music Box Makers, 2004, S. 193) (Piguet 2004, p. 193-195)
"BHA added disc-playing instruments to its product range, in various sizes from 56 to 216 notes, enclosed in elegant boxes and cabinets made in the manufacturer´s  workshops. Their overall effect is most sastifactory." (Piguet 2004, p. 193-195)
"The report of the jury, presented by Louis-Philippe Mermod, was rather critical: We recognize the excellence and harmony of the sound quality of the 156-note instrument. The others, however, have given us the impression that the manufacturer has sacrificed a little too much harmony to the force of its sound reproduction. No doubt that a certain type of client insists on this type of product, but it is to be feared that too much docility in this area will be harmful to music box interests. This impression was manifest upon listening to the large 216-note instrument with 4 combs and discs of 85 cm diameter. (Jury report p. 11)" (Piguet 2004, p. 193-195)
"At the 1901 cantonal exhibition in Vevey, Barnett H. Abrahams, together with the manufacturers from Sainte-Croix, obtained a gold medal, as they had done at the Exhibition in Dijon three years earlier." (Piguet 2004, p. 193-195)
"Between 1890 and 1900, the success of the disc-playing music boxes caused a serious decline in the quality of the large cylinder boxes which were more and more often made so as to cost as little as possible. To cover poor musical arrangements and distinct sound, bells were added which were not even tuned and did nothing to enhance overall harmony. By the same token they tried to play as many tunes as possible on the same cylinder, using only one half, or even one third, of the cylinder per tune, which enabled them to offer programs of up to twenty or thirty tunes. They were presented in impressive boxes or cabinets, more often than not decorated with transfer stickers – which Charles Cuendet was selling at the time – rather than with inlay, or else in painted or imitiation wood boxes." (Piguet 2004, p. 193-195)
BHA – most important manufacturer of inexpensive large-size music boxes
"Barnett H. Abrahams was no doubt the most important manufacturer of inexpensive large-size music boxes. He was also the biggest user of bells and launched the fashion called visible bells for the music boxes with one, three or five bells mounted behind the cylinder and easily visible."
(Compare Piguet, Faiseurs, (1996), p. 287-288, see Piguet, Music Box Makers, 2004, p. 207-208)
(Piguet 2004, p. 193-195; Bellamy, Music Makers of Switzerland, (2015), p. 6)
---
Sons of Barnett Abraham
Joseph H. Abrahams and Henri C. Abrahams, manufacturers of music boxes and other mechanical products, 1902–1904
Barnett Henry Abrahams died in 1902 "and his company was taken over on 2nd August of the same year by his sons Joseph H. Abrahams and Henri C. Abrahams, manufacturers of music boxes and other mechanical products under the name The Sons of Barnett Abraham."
(Compare Piguet, Faiseurs, (1996), p. 287-288, see Piguet, Music Box Makers, 2004, p. 207-208)
---
Britannia S.A.
"Things became more and more  difficult and Henri Abrahams gave up the business one year later. On 24th June 1904, a new company was created by Joseph Abrahams and Charles Cuendet: Britannia S.A., manufacture, purchase and sales of all types of musical boxes, instruments and automata, mechanical or otherwise, phonographs and other talking machines, mechanical and wood objects (Trade Register). This activity did not last long either because the business was liquidated on 18th January 1905." (Piguet 2004, p. 193-195)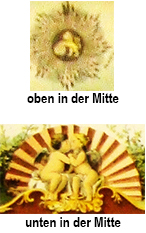 Barnett Henry Abrahams, *1839, †1902, was a musical box maker and dealer. Im Jahr 1857 übersiedelte er aus England in die Schweiz und begann Walzenspielwerke im unteren Preissegment herzustellen.
---
Im Jahr 1895 Fusion mit der Firma Cuendet-Develay.
Ab 1895 in Sainte-Croix beheimatet, wechselte er knapp vor 1900 von der Produktion von Walzenspiel- zu den Plattenspielwerken.
---
TMB 18, 5, 1998, p. 136, Nr. 1
---


Links: B. H. A., St. Croix, Switzerland, rechts: London
---


Die Musiktafeln sind links unten signiert: B. H. A., St. Croix, Switzerland, (im Kanton Waadt)



rechts unten ist "Walter Marty, Herisau" zu lesen. Herisau ist als grösste Ortschaft, Verwaltungssitz und Sitz des Kantonsrats der "de facto"- Hauptort des Kantons Appenzell Ausserrhoden, auch wenn in der Kantonsverfassung kein eigentlicher Hauptort festgelegt ist. Beispiel für ein Spielwerk:

---
Zu Kompositionen des "Österreichische Marschkönigs" Josef Franz Wagner bitte hier klicken
---