---
---
Charles Ullmann
Auberson, Switzerland. A German-Swiss by birth who made good-class musical boxes of the cheaper variety between about 1870 and 1890. He had a London agent named Henry Gerhardt, and Messrs Imhof & Mukle also sold his musical boxes. Ullmann made possibly the best use of twelve-air combs and knew how to set his music so that the smallness belied the quality of the movement. At times he placed the control levers of his movements outside the cases. He also made the Excelsior and Superextra musical boxes, and quite often these have colourful lithographed tune sheets typewritten in blue.
(Ord-Hume, Music Box, 1980,  p. 334)
---
Charles et Jacques Ullmann (L´Auberson),
1882 – ~ 1904
11 rue du faubourg Poissonière, Paris. Established in 1881 as successors to Ch. Mathieu and Lecompte & Cie., musical instrument manufacturers and distributors. Became first Paris distributors for the Symphonion and produced musical boxes which it advertised as made at Ste-Croix, Switzerland. The Ste-Croix address was rue du Tyrol 9, and the business was still operating at least as late as 1909.
(Ord-Hume, Music Box, 1980,  p. 334)
---
"In 1881, at No 11 of the Rue du Boulevard Poissonière in Paris, a new sign was put up to replace the one mentioning Mathieu & Lecompte: musical instruments were still made and sold there but the new name was Charles and Jacques Ullmann. The brothers were interested in music boxes and Charles developed a miniature interchangeable cylinder box called Multiphone, for which he filed a patent.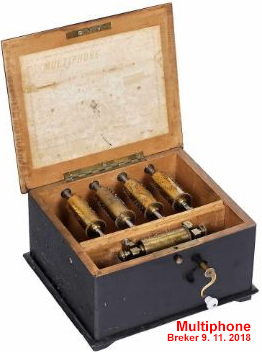 He suceeded in making a quality movement at an affordable price, guaranteeing accurate musical performance for the small size of cylinders (44.5 mm long), mostly only playing one tune." (Piguet, S. 306-308)
"The Ullmann brothers had a well-organized distribution network in France, as well as an agency in London. They wanted to produce the Multiphone themselves and approached the capital of the industry (in their opinion). They travelled to Sainte-Croix in 1882 and were interested in possible partnerships with local manufacturers or workers." (Piguet, S. 306-308)
"On 11th February 1884, Charles Ullmann met with the Société industrielle et commerciale (SIC) and they made contact with établisseurs in L´Auberson, in particular with François Jaccard, who had started his own business on 29th March 1882.
On 12th July 1886, François Jaccard transferred his company to Ullmann, except the assets and liabilities. So Charles and Jacques Ullmann set up a branch company of their Parisian establishment in L´Auberson, in oder to make music boxes, expecially small interchangeable cylinder boxes.
François Jaccard worked in association with the Ullmanns for a few weeks, until the takeover was completed and then the management of the company was entrusted to Alphonse Normann." (Piguet, S. 306-308)
"The activities of the Ullmann brothers developed rapidly. One year after its creation [1887], their company was already a leading one in L´Auberson, employing twelve men and five women, with several working at home. They were masters at promoting their products and brought out a catalog. The brand they created for this purpose, i.e. Excelsior, was a guarantee of quality." (Piguet, S. 306-308)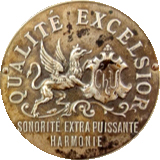 Exposition universelle in Paris in 1900
"The Ullmanns did not participate in any exhibitions, not even in collective efforts, with the exception of a very discreet appearance at the Exposition universelle in Paris in 1900, without any claim to medals.
Their company was to undergo changes, depending on the evolution of the economy and on the relationship between the two brothers.
No Charles Ullmann in the years 1891–1898
Charles Ullmann withdrew on 12th June 1891, leaving his brother Jacques to continue the company´s activities together with Alphonse Normann in L´Auberson and on 22nd June 1896 in Sainte-Croix, at Rue du Tyrol 9, where the company was transferred." (Piguet, S. 306-308)
"On 30th March 1898, Charles rejoined the company, which took on its former name of Ch. and J. Ullmann. In 1904, they employed eight workers and several home workers. But just then they were confronted with the crisis of the large music boxes, under competition from the gramophones, and like other manufacturers in Sainte-Croix, the envisaged the production of talking machines." (Piguet, S. 306-308)
International Talking Machine Cie. Odeon Werke
1899 saw the creation in Sainte-Croix of a branch office of International Talking Machine Cie. Odeon Werke, with registered offices in Weissensee, near Berlin. Its objective was to manufacture and sell talking machines, records, music boxes and other related products. Capital contributions amounted 400,000 German marks. Alphonse Normann was appointed manager of the Sainte-Croix branch office. He added what was left of the Ullmann business after its dissolution. However, this subsidiary company only survived for two years – the competition between the manufacturers was fierce – and it closed its doors on 25th June 1913." (Piguet, S. 306-308)
---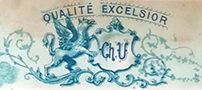 ---


Die fünf Firmensignets laut dem Briefkopf der Firma aus dem Jahr 1905
---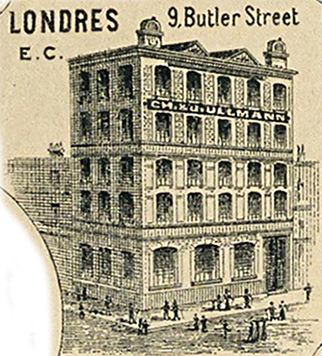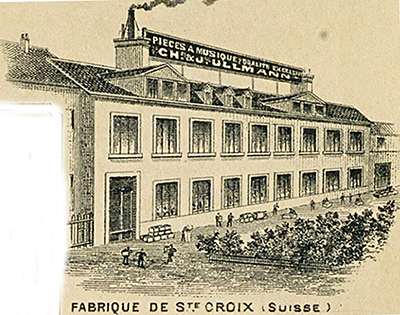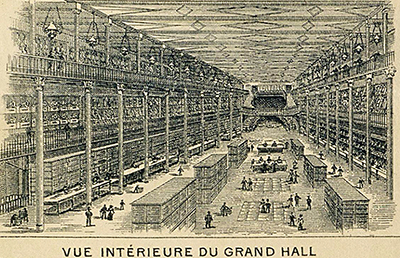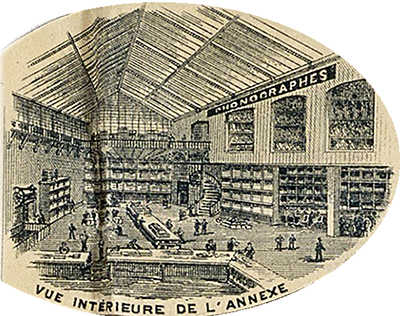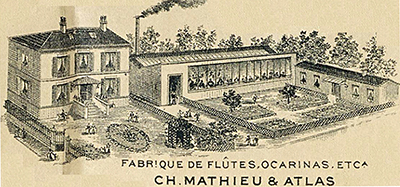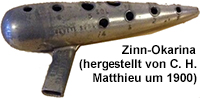 Sechs Ansichten der Firmengebäude laut dem Briefkopf der Firma aus dem Jahr 1905
---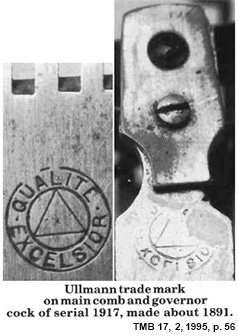 ---



Charles & J. Ullmann
(TMB 18, 5, 1998, p. 137, Nr. 40)
---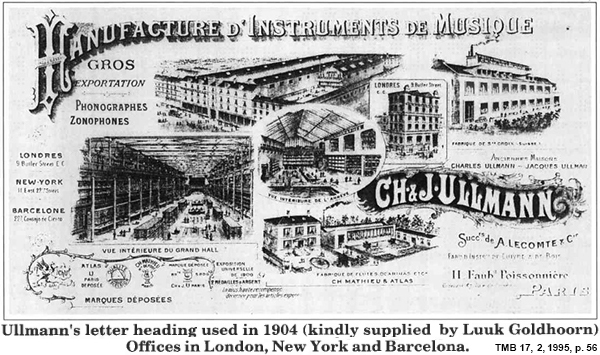 ---

---
---

Spieldosen /
music boxes
---

Spielwerke bzw. -dosen / music boxes
---
---
Spielwerke mit Musikzetteln mit Bordüren
---
---
Bellamy, Music Makers of Switzerland, (2015), p. 6
---