---
François Conchon (*1837, 1874 – 1898, †1913)
Firma "Star Works"

+

Spielwerke /

+

---
Place des Alpes 9, and rue des Paquis 2, Geneva. Germain traces François Michel Conchon back to France where he was born c. 1837. He married in Geneva in 1869 and was listed for the first time as a musical-box manufacturer in 1874. By about 1878 he claimed to employ annually fifty workers and to produce all the parts of his musical boxes in his workshops `to reduce their cost´. The business ceased on 27 May 1898 and Conchon died in February 1913. Made good-class musical boxes and some excellent three and four-comb pieces.
Later Conchon produced
helicoidal movements

under the style name `

A L´Étoile

´ and at this time his trademark was a five-pointed star interlaced with a lyre. A Conchon helicoidal, the cylinder making six revolutions before backing away from the comb, is in the Guiness collection, New York.
(Ord-Hume, Musical Boxes, p. 299)
Conchon Helicoidal
F. Conchon never seemed to be in any doubt about the versatility of his ideas or his output. The former is noted in a letter of his dated 27 -LL-I89I (in Vol. 6, page 186) and the latter is clearly expressed in his unpacking and operating instructions. These were headed by a location picture of his Star Works flanked by lists of'his products in French and English. [...] The instmctions printed below covered all types of musical boxes except helicoidals. All were quite conventional except: If after a time, the instrument shows signs of slackeningplace a drop offine watch oil on the screw-worm B. [...]
Conchon also issued some specific instructions, for example with serial9662 whose tune sheet has the Star Works trade mark at top left, and F. CONCHON, Fabricant, GENEVE in the top border. The heading above the list of tunes reads:"Interchangeable Continuous play CylindersSublime Harmony Piccolo and Bells". A Helicoidal! ! The accompanying special instructions are stupifyingly verbose and further hindered by uninspired translation from the French. They take a lot of words to explain that with helical pinning there is no tune gap on the cylinder which is pinned all round and therefore has to be moved away from the comb for its return to tune 1. They powerfully emphasize that the triggers at each end of the cylinder bearings must be firmly pressed down to move the cylinder away from the comb before a cylinder is changed and also before using the tune selector. . . . "pressingthem until a snappingsound is heard which is a sign that the unlatching is entirely produced - then the cylinder can be placed on the bridges without fear ofhurting either the pins of the cylinder or the small hair spring under each tooth of the comb." No clue is given as to how the movement of the cylindertowards and awayfromthe comb is achieved; the explanatory note simply reads . . . . It has been necessary to combine a mechanism producing the recoiling of the cy'inder to a sufficient distance backwards fromthe comb in orderthento allowittoslide from the last revolution to the first and then to come of itself against the comb to play from the beginning, all these different movements being done automatically.
This Conchonhelicoidal systemis probably simpler and certainly quite different from that patented by Arthur Junod in 1896 and explained with drawing inVol. 7,page 184. Conchonfirstexhibited ahelicoidal in 1878, but probably it was not an interchangeable. Conchon 9662 has three 6-air cylinders, two ofthem conventional with operatic airs up to 1879 and the third a helicoidal. described on the tune sheet"continuous play cylinder," with the Wm. Tell overture. The Sublime Harmonie combs have 42 teeth each with separate combs for Piccolo, 30 teeth, and six for the six bells. The cylinders are 15" (38cm) by 2.4" (6cm) diameter, $ving 70 seconds per tune and7r/z minutes for the overture. The box was made in 1892 - according to Fig. 6. Sound early advice It is sometimes sobering to read up-to-date advice set out by craftsmen centuries ago. For example .... When you have cast the bells in the way described above, if the tones are imperfectly matched through negligence or carelessness, correct them. If you want to have a bell witha higher tone, file the bottom of the rim; if lower, fiIe round the rim on the outside. This quote is taken from Book 3, Chapter 87,"Small Musical Bells," written in the year lL22byTheophilus, a Benedictine monk. The complete work is entitled "On Divers Arts" translated from the Latin by Hawthorne and Smith, Dover Publications, New York. It ranges from painting to wire-dradrg,from stained glass windows to hardening files, and gives a good picture of 12th Century craftsmen. eather conditions at Ste. CroixArthur Junod's daughter Edith collected picture post cards in the 1903- 19 14 period and several in her collection including one reproduced here in Fig. 8 are reminders of the severe winter weather at Ste. Croix, sometimes with very persistent snow and cloud cover blanketing the area. The railway from Yverdon was successfully planned to be reliable despite adverse weather, though that involved a detour of about eight miles to keep gradients from exceeding Iin25 duringthe2000 feetclimb. The altitude atYverdon onNeuchdtel lake is 435 metres and at Ste Croix station 1066. The town centre altitude is 1076, so you hadn't finished climbing when you got offthe train. TMB 16, 3, autumn/fall 1993, p. 81
https://www.mbsgb.org.uk/TMB/V16_B3.pdf
---




His trademark, stamped on the endless cock, was two ovals arranged like a butterfly´s wings, the left one carrying `F.C.L.´ and the right a musical lyre with three dots between the ovals. / Trademark was a five-pointed star interlaced with a lyre. (Ord-Hume, Musical Boxes, p. 299)
---
10/5: •RoBelDonAubMeyer – HerWeSLanLab•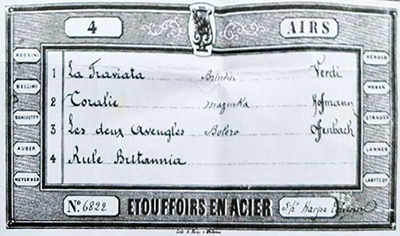 Spielwerk: Nr. 6822
---
12/3: •BelMoRoWeMeyerFlot-VerDonSLabGSch•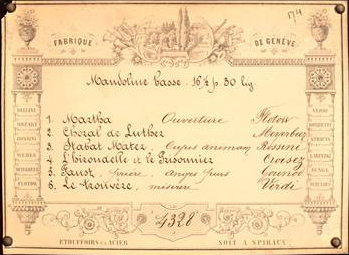 Spielwerke: 3946 (und bitte danach weiterklicken / and please click on the arrow to the right)
---
16/1a: •BelMoRoWeAubHalWagPlanq – BoïeDonAdamOffVerFlotSullLec•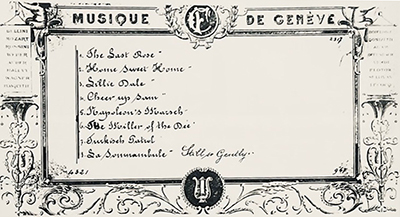 Spielwerk: Nr. 4321
---


Spielwerke Hauptkomponisten / mainn composers
| | |
| --- | --- |
| Werknummer | Datierung |
| | ~1871 |
| | ~1872/73 |
| | ~1873/74 |
| | ~1874 |
| | ~1875 |
| | 1883 |
Please click here to see more music boxes
---
François Conchon
Der Spielwerkproduzent François Conchon, erstmals in Genf gelistet 1874, nach Bulleid tätig bereits ab etwa 1861, Jahresproduktion etwa 400 Werke, ab 1895 Blechplatten statt der bisher üblichen Walzen, bis zur Auflösung der Firma im Jahr 1898
| | |
| --- | --- |
| 1861 | Beginn der Produktion des 24-jährigen François Conchon |
| 1871 | Werknummer ~4000 |
| 1873 | Werknummer 5000 |
| 1876 | Werknummer 6000 |
| 1880 | Werknummer 7000 |
| 1883 | Kompliziertes Werk: Werknummer 8258 spiralförmige Bestiftung, spielt 6 Musikstücke ohne Unterbrechung (TMB 16, S. 199) |
| 1885 | Werknummer 8000 |
| 1890 | Werknummer 9000 |
| 1898 | Ende der Produktion Werknummer: <10000 |
(Bulleid 3rd Suppl., Chart 4, p. 51)
---
Teilnehmer bei der Nationalen Ausstellung in Zürich 1883
---
Die Firma François Conchon war zeitweise Visavisnachbar der Firma Ami Rivenc.
---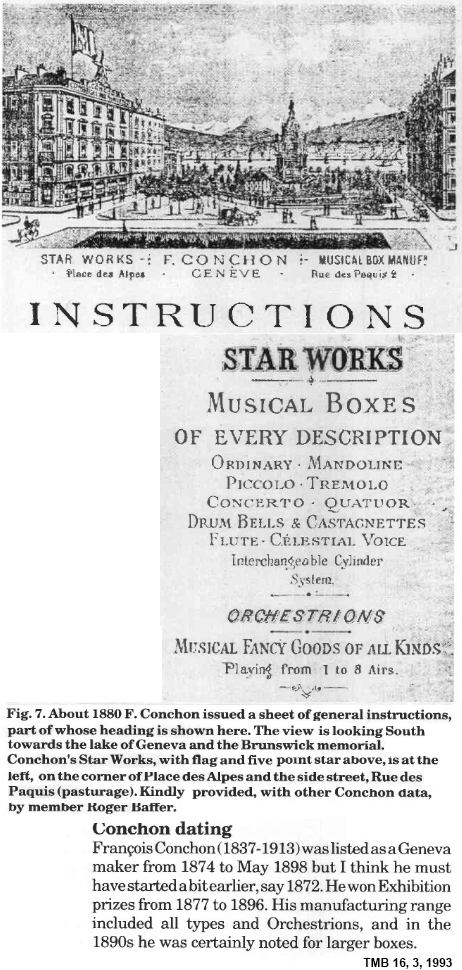 ---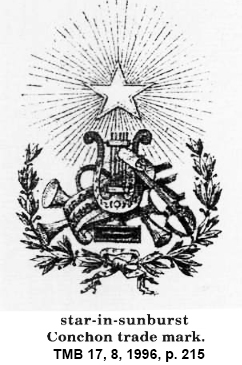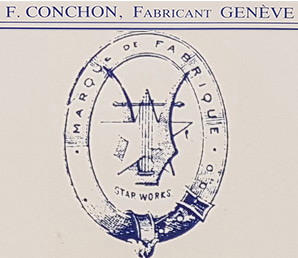 ---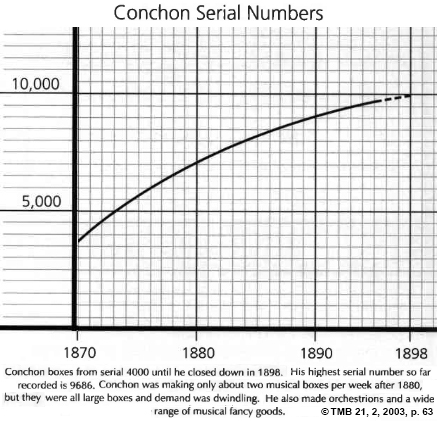 ---
Spieldose mit Röhrenglocken
Verwendete in einem undatierten Werk auch Röhrenglocken. Zitat Antiquitätengeschäft Rau: The piece ingeniously allows for continuous play by means of a release attached to one of the arbor supports, while a dial on the left indicates which air is currently being played. The inclusion of twelve tubular bells adds depth and richness to the melodious sound produced by this mechanical music masterpiece. Also, thanks to a pair of zithers, the box is able to achieve a pizzicato, or plucked string effect, adding a layer of diversity to the box's overall sound. An incredible effort was clearly made to reproduce such expressive musical nuances. A very similar box was displayed by F. Conchon at the Swiss National Exhibition of 1896 in Geneva.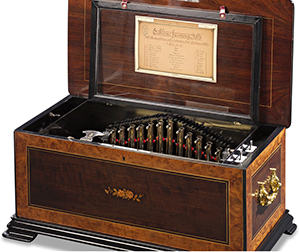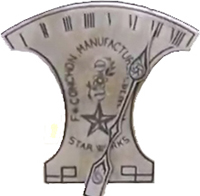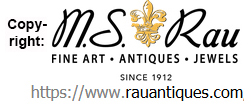 ---
Sorgfältige Verarbeitung einer nicht nummerierten Spieldose ohne tune theet: Vernickelte Teile


Nickel finish components along with the blued steel bolts that secure the sublime harmony pair of comb. The already fancy adorned zithers with cast relief lyre decoration have plates beneath with neat looking clustered stars
---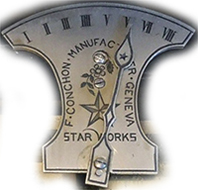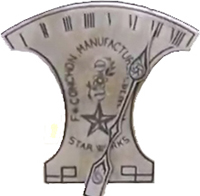 ---
Bulleid, Technology, p. 1
---