---
Spielwerk von LF [Léonard-Frédéric] Nardin, 61 Sekt. à 1 Zunge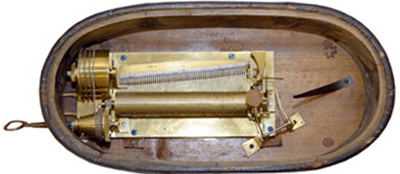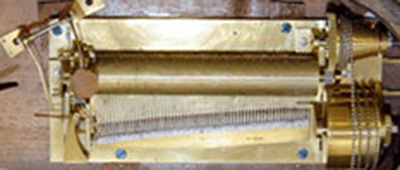 LF [Léonard-Frédéric] Nardin, Nº 61 (?) 61 teeth screwed one by one, fusee, oval blackened varnished wood clock base on round feet, 41 x 20 x 11 cm. 3 levers on the right.
Rectangular movement bedplate, ca 24 x 10,5 cm, Stamped LF Nardin and 61.
15.7 cm Cylinder of 15.7 cm, diam. ca 3 cm. Three very well noted tunes, fine sound. Ca 1820. Ord-Hume, "Musical Boxes", knew only two movements (including this one ?) by Léonard-Frédéric Nardin (Le Locle).
Chartres Auction Catalogs, 2 December 2007, Nº 598;
https://www.mmdigest.com/Gallery/Auctions/Chartres0712/0712En_images.html
---
---
Zu einer Übersichtsseite über Léonard-Frédéric Nardin
---
---
Die fünf Sektionalkamm-Spielwerke der Auktion Chartre
vom 2. 12. 2007 waren die Nummern 598, 599, 600, 604, und 680
---
---
Fotos: ©Chartres Auction Catalogs