---
Empireruhr eines unbekannter Wiener Herstellers mit einem Flötenspielwerk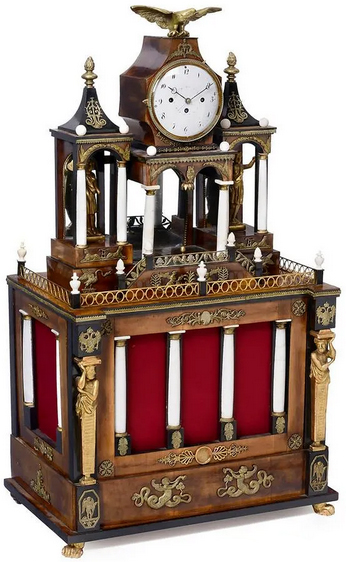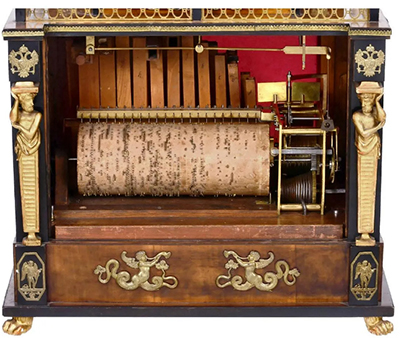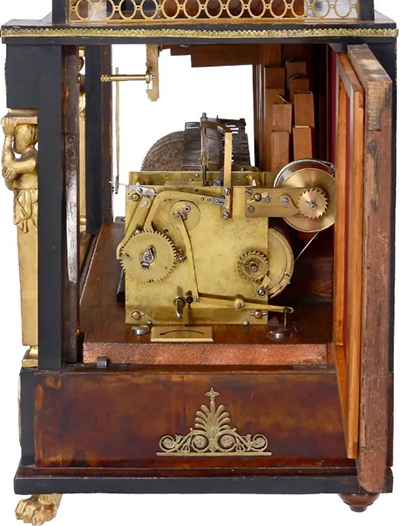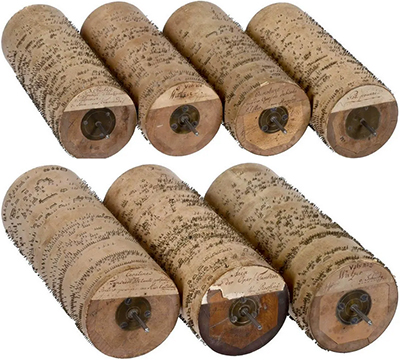 Auction Team Breker Sept. 25th, 2021. lot 678. Vienna, with 4 ¾-inch (12 cm) enameled Roman dial, centre monthly calendar dial, three-train movement with silk-thread suspension and pendulum, striking the hours and repeating the halves and the quarters on two gongs, in architectural mahogany case decorated with alabaster pillars, finials and gilt mounts depicting trumpeters, pairs of sphynxes, geese, an owl and double-headed eagle crests, the upper level with pair of giltwood angels in alcoves and eagle trophy, the base with herms flanking removable sound fret and two concealed side doors.
Housed in the base is a twenty-two-note organ movement with crank-wound brass fusee spring, manual activation via 'plunger' (originally activated upon the hour ?), two ranks of eleven wood pipes and eight spirally-pinned wood barrels with handwritten labels, ht. 33 x wd. 19 x dp. 13 ½ in. (84 x 49 x 30 cm), barrels 9 ½ x 3 ½ in. diameter (24 x 9 cm), movement and case restored, some parts replaced, chips on dial, with crank, key and a modern purpose-built cylinder storage case.
Accompanying the clock are two albums of photographs taken during restoration by Lars Berg in January 2007.
Titles: 1) "Walzer"; 2) "Walzer von Schudy" - 3) 3 Stücke: 1. Polonaise Schatzgräber, 2. Polonaise, 3. Aria aus "Tancrede". - 4) "Potpourri". - 5) "Ouvertüre aus der Oper "Die diebische Elster"von Rossini. - 6) Aria aus der Oper "Tancrede" von Rossini. - 7) "Cavatine "Tancrede"/Di tanti palpite/Bolero gesungen von Maid: Catalani. - 8) Ouvertüre aus der Oper "Tancrede" von Rossini. The repertoire suggests production during the first half of the 19th century, with Gioacchino Rossini's operas "Tancredi" (1813) and "The Thieving Magpie" (1817) in harmony with the style of the movement and the case. "Schatzgräber" ("The Treasure Hunters") may refer to Josef Seyfried's comical one-act opera of 1807.
The barrels are pinned to shift laterally while rotating, allowing for the performance of one long or several shorter pieces of music. A complete cycle lasts for around four minutes. - A very rare musical clock.
©Auction Team Breker
---