---
Spielwerk mit 28 Sektionen à 2 Zungen, vergoldete Silber-Tabatière Walzenspieldose von Bruguier, etwa 1818, No. 466, the comb-base engraved Bruguier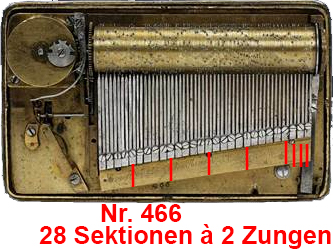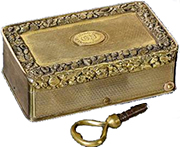 Auktion 9. Nov 2018, Los 13
he comb-base engraved "Bruguier, 52 Great Marlborough St., London".
Aus der Beschreibung von Breker: According to Mayson, Charles Bruguier and his family returned from London to Geneva in 1823 and shortly afterwards began the production of singing bird boxes. Though Brugnier was not principally known for cylinder musical movements, Mayson's dating suggests that the example here is from the earliest days of production.
Geoffrey T. Mayson, Mechanical Singing Bird Tabatières, p. 126.

---
Fotos: ©Auction Team Breker