---
Jean Billon
Jean Billon, *1823, since 1844 blanks marked JB, 1862 SBI, (=Société Billon et Isaac), for making blanks, combs and springs for musical boxes
Jean Billon junior, *1855, 1880 Billon-Haller, (marriage with Émilie Lina Haller), Société Anonyme de l`Ancienne Maison Billon et Isaac, dissolved in September 1904, †1935
There were two Jean Billons:
The father, Geneva-born in 1823, established a workshop for the making of blanks and combs for musical box. In October 1862 he formed an association with Louis Jules Isaac, a clockmaker born in 1830, as Société Billon et Isaac, for making blanks, combs and springs for musical boxes.
Jean Billon junior, born in 1855, took over the business in later years and in 1880 Billon-Haller married Émilie Lina Haller, from which time Jean Billon called himself Billon-Haller. In April 1887, according to the researches of Suzanne Maurer, the trademark of the Société Anonyme de l`Ancienne Maison Billon et Isaac, now described as makers of musical boxes and their parts, was a butterfly with its wings spread and the letter `J´ in the left and `B´ on the right. Jean Billon-Haller took out several patents for improvements to musical boxes (in 1890 and 1891) concerning safety devices to prevent the damage caused by a run.
In 1895, he invented a device for use in mechanical organs so that the work of the bellows could be varied to suit demand as dictated by the tune sheet. This was shown at the National Exhibition in Geneva in 1896 and earned its inventor a bronze medal. The same year, Billon patented improvements to the disc machine followed by dampers for same in 1897. These were as a prelude to the production of the Gloria and Polymnia disc musical boxes. The business was dissolved in September 1904. Jean Billon-Haller died in Geneva in March 1935.
In 1887 his son Isaac added the making of complete musical boxes, branded Billon-Haller, in 1887. (Haller was the name of his wife). (Bulleid, Technology, p. 1)
---


Since 1880: Billon-Haller
(bis 1904)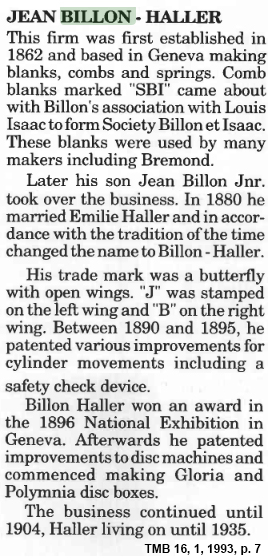 Exhibitor and winner of a bronze medal at the Nationale Ausstellung in Genf 1896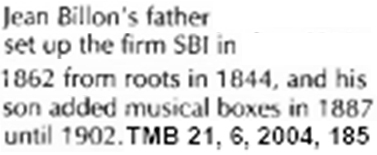 JB are the initials of Jean Billon. This Swiss company is normally a retailer, but sometimes makes complete boxes under the name Jean Billon-Haller (Billon and his wife Haller). He works also in partnership with Isaac, and it is not rare to find on the bottom of bedplates the mark SBI for "Société Billon Isaac." I have seen that on many Paillard music boxes. (Jean-Marc Lebout, https://www.mmdigest.com/Archives/Digests/200904/2009.04.26.01.html)
---

JB on butterflies Jean Billon Haller, a butterfly with its wings spread (The letter "J") appearing in the left wing and "B" in the right
---