---
Müller-Trüb, Editeurs, Lausanne
auch Ateliers Artistiques Myller-Trüb
The history of A.Trüb & Cie starts in 1859 when a society was established in the Swiss town of Aarau to operate a printing shop. In 1880 the control of the business passed on to Jakob Müller who, in 1884, entered an association with August Trüb. The demand soon developed enough for the company to contract a permanent graphic artist. Since the earliest days, the printer targeted the manufacturing industry, supplying paper packings, labels, prospects, illustrated bills and the like. In 1890 the company operated 8 printing presses and employed 60 workers. Its owners wanted to expand the business and so bought over a smaller printer in Lausanne. The oldest Trüb luggage labels in my collection date from the early 1890s and are marked "Müller & Cie, Aarau" or "Müller & Cie, Lausanne" (https://www.inverso.pt/labels/printers/Trub/Trub.htm).
Four Designs
1/4
Design for Barnett Henry Abrahams:


Silver star with lion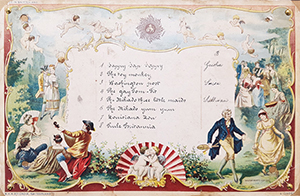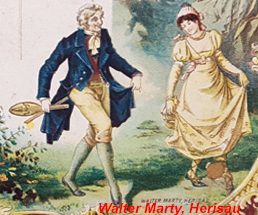 Bottom center: Two kissing angels before a background: with a semicircled pink-red drapery
Bottom right: Signed by the artist, Walter Marty from Herisau, (situated near Zurich).
---
2/4
See necessarily the Chapter [15] of the chapter The left and right part dominating, Left: white haired violonist, right: white haired female with sheet music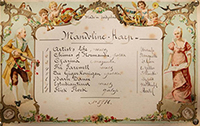 ---
3/4
See necessarily the Chapter [7] of the Chapter The entire picture or the bottom bordure are most important (maker of the music box: Allard & Sandoz)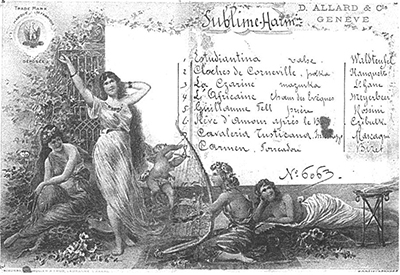 ---
4/4
Die nun folgende Musiktafel ist ein späterer Emtwurf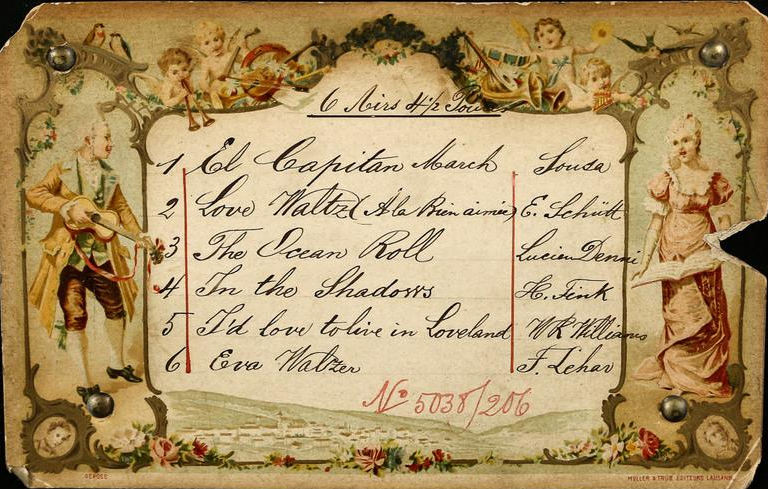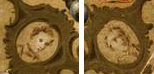 Ungeklärt: Links und rechts unten sind zwei Köpfe dargestellt, ( vielleiht Müller und Trüb, die Inhaber der Druckerei?).
Siehe dazu das Kapitel 15 der links und rechts dominierten Musiktafeln.
---
Weiteres Beispiel: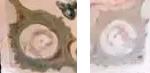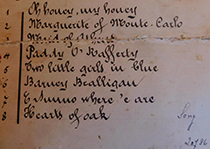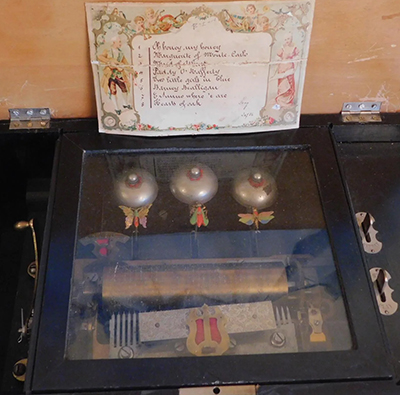 ---