[Presumably 8/2: •RoWeMeyerAub-BoiBeetWeMo•:]
VLG 11224
---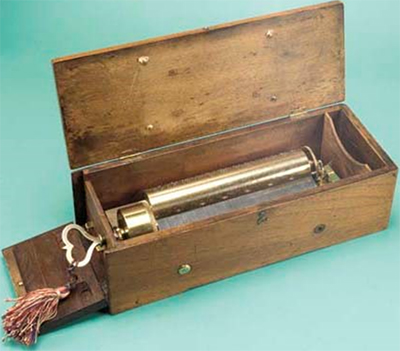 1: Guillaume Tell
3: Lucia di Lammermoor
5: Lucia di Lammermoor
6: Fille de regiment
No. 11224, playing four airs (Motif du Lac, La Marseillaise, Valse des Huguenots, Grande Marche de la Juive), the bedplate stamped Valogne, 2 and T.F/o and the comb base VC, in plain fruitwood case with notched hinged endflap and hand-written tune-sheet Literature Anthony Bulleid, 'Musical Box Oddments No. 98', in Autumn 2003 Musical Box journal p. 100 for another example of the T.F./o stamp.
For and T.F/o please click here!
The stamp T.F/o (possibly an early repairer's mark) has been found on a number of Nicole and two Lecoultre movements.
Other distinctive features of the movement include the unsual formation (two large and seven small teeth) of the female Geneva stop.
The programme suggesting a date of the manufacture is no later than 1840. There is some suggestion that the movement is by the same blank maker as early Nicole boxes, although at present there is insufficient evidence to make a definite link. The only other box to have been recorded with the Valogne mark is in the Guinness collection. (https://www.christies.com/en/lot/lot-4163943)
---
---
Zur Sitemap Spielwerke der Firma Valogne
---
---
8/2: •RoWeMeyerAub-BoiBeetWeMo•:
VLG 11224
---